This is really the post that just didn't want to be posted. I made this on Saturday night, but never had the chance to post about it until now. And it has to be fast because I have to get ready for work soon!
After spending Thursday and Friday not feeling very well, I wanted something really simple. And this totally fit the bill.
Classic flavors, which despite seeing more autumnal, it works for mid-August. Very moist and flavorful. My mom was raving about it for a full five minutes after trying it. :)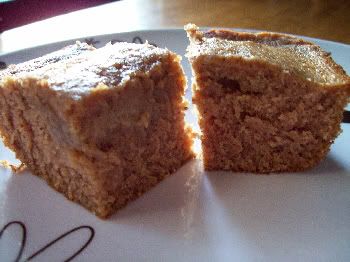 Ingredients:
2 cups flour
1 tsp. baking soda
1 tsp. cinnamon
½ tsp. allspice
½ tsp. nutmeg
¼-½ tsp. ginger (if desired)
½ tsp. salt
½ cup butter, softened
1 cup sugar
3 eggs
½ tsp. vanilla
1 cup applesauce
¼ cup buttermilk
Directions:
Preheat oven to 375F. Grease an 8-inch baking pan.
Sift together flour, baking soda, spices, and salt; set aside.
Beat butter and sugar until fluffy. Add eggs, one at a time. Add vanilla and applesauce. Alternately add flour mixture and buttermilk, starting and ending with the flour. Pour into prepared pan.
Bake at 375F for 25-30 minutes, or until a toothpick inserted near center comes out clean. Let cool on wire rack. Serve warm or cold.