Alright, before I start talking about these cupcakes, I have to ask this: Has anyone else heard of Kraft's new Mallow Bites? They're chocolate-covered mini marshmallows. We found them at Target today, and they're quite yummy. Here, I took a picture. :)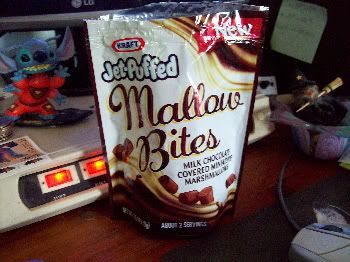 (don't mind Stitch; he guards my computer) ;)
I poked around a bit online, but never found anything. *shrug*
Onto the cupcakes! After drinking
Inko's Cherry Vanilla White Tea
, I asked myself, "I wonder if I could make a cherry vanilla cupcake?" The tea is very smooth and has almost a subtle cherry taste, and I really wish I could find it nearby. Fast-forward to two (or three?) weeks later, and here it is. There are little to no cherry vanilla cupcake recipes on the web.
Chockylit
had one, but I knew I didn't want a cherry filling. So I went with the basic vanilla cupcake, but used some vanilla sugar I had made, instead of regular sugar. Then went with maraschino cherry juice in the frosting.
Maybe it's because I know it's there, but I taste the vanilla when eating the cupcake. Dave and my dad said no, that the cherry frosting overwhelms, but my mom said she picked up SOME vanilla flavor. Maybe using vanilla bean as well? This one is going to the "needs tweaking" mental file, because I'm not ready to give this up. I want that smooth cherry-vanilla flavor, goshdarnit! ;) But, despite my 'misgivings', Dave ate three and both my parents have plans for the remaining ones.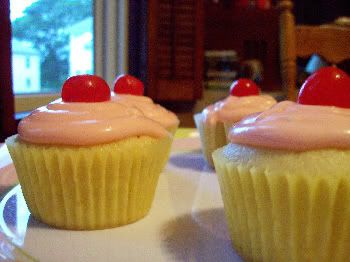 Ingredients:
1-1/3 cups flour
3/4 tsp. baking powder
1/16 tsp. salt
½ cup butter, softened
1 cup vanilla sugar
2 eggs
½ cup milk
1 tsp. vanilla
Directions:
Preheat oven to 350F. Line 10-12 muffin cups with paper liners.
Sift together the flour, baking powder, and salt; set aside.
Beat butter and sugar until light and fluffy, about 3 minutes. Add eggs, one at a time. Gradually add dry ingredients. Then add milk and vanilla. Fill cupcake liners half- to 2/3's full.
Bake at 350F for 22-25 minutes, or until a toothpick inserted near center comes out clean. Let cool completely on wire rack. Frost with cherry frosting.
Cherry Frosting:
8 ounces cream cheese, softened
2 Tbsp. butter, softened
1 Tbsp. milk
¼ to ½ maraschino cherry juice (adjust to taste)
2-3 cups confectioners' sugar
Beat cream cheese and butter until smooth. Add milk and cherry juice. Gradually add confectioners' sugar, beating until desired consistancy is reached. Refrigerate for at least an hour in order to firm up.