I've made something like this before, haven't I?
I really shouldn't do blog posts while watching the Harry Potter movies. LOL But - give me one moment of fangirlishness - it IS
Order of the Phoenix
, and that IS one of my favorite of the movies. And I'd be lying if I said I wasn't super looking forward to the sixth movie coming out.
Alright. With that said, I really think I've made these before. But mom wanted chocolate and I wanted to bring some in to work on Monday, thus... these were made.
Originally from
Hershey
, the only thing I didn't do was the peanut butter 'icing' on top. Like most Hershey recipes, pretty easy and basic, but yummy enough to impress people. :)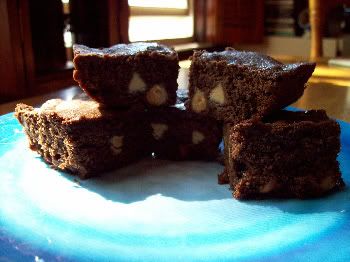 Ingredients:
1-2/3 cups flour
2/3 cups cocoa
½ tsp. baking powder
½ tsp. salt
1¼ cups butter, melted
1-3/4 cups sugar
4 eggs
2 tsp. vanilla
10 oz. peanut butter chips
Directions:
Preheat oven to 350F. Grease a 13x9-inch pan.
Whisk together flour, cocoa, baking powder, and salt; set aside.
Beat butter and sugar until well combined. Add eggs and vanilla. Gradually add flour mixture, beating until completely mixed in. Stir in peanut butter chips. Spread into pan.
Bake at 350F for 30-35 minutes, or until a toothpick inserted near center comes out clean. Makes about 36 brownies