I've always heard of hermit bars/cookies, but had never made them. So I made them. Then went in search of their history, so I could post it on here. It's been a two-day affair, and only now did I find something relatively decent.
Joe Pastry
has the best I've come across. Did you know there's not even a Wikipedia page for them? I was shocked.
I can easily imagine these being made a hundred years ago. Even further back than that. No one seems sure as to why they were named hermits, though. Either a mispronounciation, or perhaps based off the color of the hermit's robes? Either way, it makes me feel very connected to the past when making a recipe (or variant of) that's been around for so long. I have a box upstairs of my Aunt Sara's recipes that I plan on going through this autumn. I never met my Aunt Sara, she died a bit before I was born, but all the stories tell of her fabulous cooking and baking. My Uncle Ernie was a lucky man, that's another one I heard a lot. Pictures always show him smiling when Sara was around. Food and love are so intertwined, at least to me. They always looked happy together.
I digress. I think the best image that could be conjured up is one that took place about half an hour ago. I came upstairs from putting some clothes in the washer, and found my dad sitting in the table, quickly closing the cover of the container the bars are in, with a guilty look on his face. :) The bars are soft and chewy, and as they bake, fill the house with a delicious warming scent.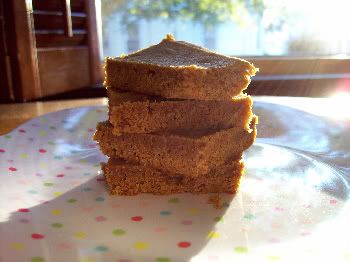 Ingredients:
1-3/4 cups flour
½ tsp. baking soda
½ tsp. salt
1 tsp. cinnamon
½ tsp. nutmeg
¼ tsp. cloves
½ cup butter, softened
2/3 cup brown sugar
1 egg
¼ cup molasses
Directions:
Preheat oven to 350F. Grease a 13x9-inch baking pan.
Whisk together flour, baking soda, salt, and spices; set aside.
Cream butter and sugar until smooth. Add egg, beating well. Add molasses. Gradually add dry ingredients, beating just until incorporated. Spread into pan.
Bake at 350F for 15-20 minutes, or until a toothpick inserted near center comes out clean. Let cool on wire rack before cutting into bars.