Confession time: before yesterday, I had never made a layer cake today.
Yeah, there was the "helping" as a kid when my mom was baking, but at six, how much help can a kid be? Other than licking the beaters afterwards, of course. And once I started baking, out in CA, I never made layer cakes because so often it was just me and my roommate, or me and Dave. So, thus, my layer cake virginity is no more.
My family, for the most part, loves chocolate. So when it was official family would be coming over for Easter, chocolate cake was a must.
Hershey
's website was most helpful for the cake recipe, but, alas, when standing in front of the confectioners' sugar at the grocery store, I got lazy and went with the pre-made frosting. *cringes* I know, I know.
I did get creative, though. Vanilla frosting between the layers, then covered in chocolate frosting. And everyone loved it, enough to bring home some for later. :)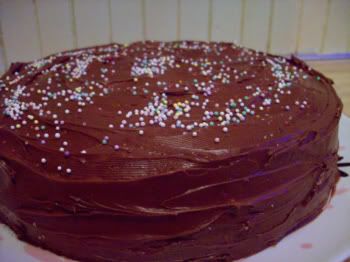 Ingredients:
2 cups sugar
1 3/4 cups all-purpose flour
3/4 cup cocoa
1½ tsp. baking powder
1½ tsp. baking soda
1 tsp. salt
2 eggs
1 cup milk
½ cup applesauce
2 tsp. vanilla
1 cup boiling water
Directions:
Preheat oven to 350F. Grease two 9-inch round baking pans.
Stir together sugar, flour, cocoa, baking powder, baking soda and salt in large bowl. Add eggs, milk, applesauce, and vanilla; beat on medium speed for 2 minutes. Stir in boiling water. Pour batter into prepared pans.
Bake at 350F for 30-35 minutes, or until wooden pick inserted in center comes out clean. Cool 10 minutes; remove from pans to wire racks. Cool completely. Frost.