When I woke up yesterday morning, I only knew of one thing that I was going to be baking. This wasn't it.
I started poking around my usual fave blogs for inspiration, and somehow peanut butter came to mind. I guess me and PB are having some good times right now. And, not surprisingly, I found myself over at
Cookie Madness
, browsing through the peanut butter section. Simplicity was the goal, since I'm so ehh on cookie-making still. So when I found this recipe, I just halved everything and went from there. I wound up with about a dozen normal-sized cookies and one larger heart-shaped cookie for Dave. :)
Oh, and the taste? There are five cookies left. That pretty much sums it up, right?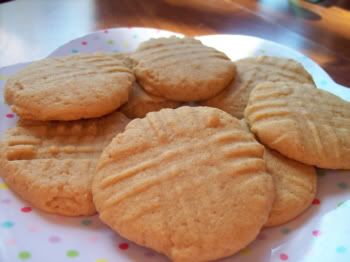 Ingredients:
¼ cup butter, softened
¼ cup brown sugar
¼ cup sugar
½ cup peanut butter
1 egg
¼ tsp. salt
¼ tsp. baking soda
¼ tsp. vanilla
3/4 cup flour
Directions:
Preheat oven to 350F. Line cookie sheets with parchment paper.
Beat butter and sugars until creamy. Beat in peanut butter and egg, followed by the salt, baking soda, and vanilla. Gradually add flour.
Form dough into 1-inch balls, placing them 2 inches apart on the baking sheet. Use a fork to create criss-cross marks on the top.
Bake at 350F for 10-12 minutes, or until lightly golden around the edges. Let sit on pan for a few minutes before removing to wire rack to cool completely.