I am very, very happy to see that Chris from
Mele Cotte
is once again hosting the
Cooking to Combat Cancer
blog event. The first one was my very first blog event. That and like so many others, cancer hits close to home.
My dad's currently going through round number four of chemo. He started it earlier in the month, and is starting to hit the not so fun stage of the side affects. Extreme tiredness and vertigo seem to be the big ones right now. And trouble hearing, oddly enough. It's harder on me, personally, this time, since during the previous rounds, I was still out in California. But when it gets hard, I always have baking and books to distract me. ;)
We all know how wonderful pomegranates are. Not just taste-wise, but also their benefits towards health. High in antioxidants, vitamin B5 and vitamin C. While most studies have mentioned it's use in heart disease, there are clinical trials going on now for its effects on prostate cancer.
For my dad, I figured this would be an easy way to get him something that's high in antioxidants. We all know chemo greatly weakens the immune system, so any extra help has got to be good, right? And if it's bite-sized and involving chocolate, my dad's likely to be there. :)
The cupcake itself is vegan, and the cream cheese frosting can easily be converted just by using non-dairy cream cheese. So it's a win-win for all, I think. Definitely use the straight up pomegranate juice, not the combination of flavors or anything made from concentrate, as the flavor will be stronger. (POM brand would be excellent; same with Whole Foods' brand.) The cream cheese provides a nice contrast in flavor, plus, hey, there's calcium! ;)
Oh! I used the recipe on this without halfing it at all. I wound up with 24 mini cupcakes and 12 regular sized. So, feel free to half it or third it, whatever, to make the amount you want.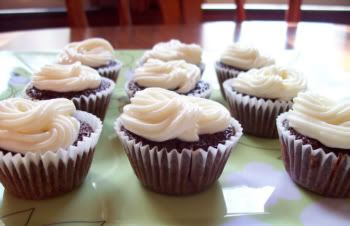 Ingredients:
1½ cups flour
1 cup sugar
¼ cup cocoa
1 tsp. baking soda
½ tsp. salt
1 cup pomegranate juice
½ cup boiling water
1/3 cup vegetable oil
1 Tbsp. vinegar
½ Tbsp. vanilla
Directions:
Preheat oven to 350F. Line 24 mini muffin cups with paper liners.
Whisk flour, sugar, cocoa, baking soda, and salt together into a mixing bowl, leaving a well in the center.
Combine pomegranate juice and boiling water in a measuring cup, stirring to combine. Add vegetable oil, vinegar, and vanilla to the cup. Pour into mixing bowl, beating until combined. Batter will be thin. Fill paper liners about halfway full.
Bake at 350F for 10-12 minutes, or until a toothpick inserted near center comes out clean. Cool completely before frosting.
Cream Cheese Frosting:
8 oz. cream cheese, softened
2 Tbsp. butter, softened
1 tsp. vanilla
1 Tbsp. milk
1½-2 cups confectioners' sugar
Beat cream cheese and sugar until smooth. Add vanilla and milk. Gradually add confectioners' sugar, beating until combined. Refrigerate for at least 10 minutes before using.