Last week, when Johanna told me it was in the 90s in the San Jose area, I told her to send me some. Because, frankly, spring really hadn't felt like it arrived yet. Yeah, some low 60s here and there, but that's it.
Until she sent me some warm weather. It hit 87F here, folks. Probably about 84F by the water where I am. It's about freakin' time. :D
So, having seen the forecast, I knew I wanted something summery. And I'm sure you can imagine where this is going. The Lime Monster snuck in the back door when I let the dog out. ;)
These are pretty much the exact same thing as last year's
Strawberry Lemon Bars
, which tasted just like strawberry lemonade. And, hey, amazingly enough, these taste like strawberry limeaid. (Hmm... wonder if I could do this with cherries? Mmmm, cherry limemade...)
Usually I bring a good portion of the baked goodies to work to share with my friends. I don't know if these are going to make it there. LOL Can you tell sometimes that I'm an only child? ;)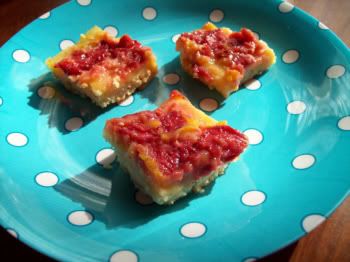 Ingredients:
Crust:
7/8 cup all-purpose flour
1/3 cup confectioners' sugar
2 Tbsp. cornstarch
Pinch of salt
6 Tbsp. unsalted butter, cold and cut into 1/2-inch cubes
Lime Filling:
2 large eggs
2/3 cup granulated sugar
1½ Tbsp. flour
¼ cup lime juice
2 tsp lime zest, from 2 limes
2 Tbsp milk
Pinch of salt
Strawberry Puree:
1 cup chopped strawberries
1–2 Tbsp. granulated sugar, depending on how sweet the berries are
Directions:
Mix the chopped strawberries with sugar and set aside to macerate for about 30 minutes.
Mix flour, confectioners' sugar, cornstarch, and salt in a bowl. Add the pieces of butter and, using a pastry blender or your hands, mix until it's a pale yellow and looks like coarse cornmeal. Line an 8x8 baking pan with a sheet of parchment. Press crust mixture into an even ¼-inch thick layer and about ½-inch up the sides. Chill in fridge for 30 minutes.
Blend the strawberries in a food processor (for a few seconds) or mash with a fork until there are no large chunks. Cook over medium heat for about 5-10 minutes until thickened. Set aside to cool.
Preheat the oven to 350F and bake crust for 20 minutes, until golden brown.
For filling: Whisk the eggs, sugar, flour and salt in a bowl until the sugar dissolves. Then whisk in the lime juice, zest, and milk.
Reduce the oven temp to 325F.
Pour the filling into the crust. Drop spoonfuls of the strawberry mixture on the surface. Use spoon or knife to swirl the strawberries through the filling.
Bake at 325F for about 20-22 minutes, or until the filling feels firm when touched lightly. Cool to room temperature, and dust with confectioners' sugar, if desired.