This is one of my favorite recipes. Not only because it's so super-duper easy, but it's also one of the first recipes that I ever put together myself. And it's versatile. I prefer the strawberry/kiwi combination, but you could do whatever the season calls for. A few years ago I made an apple variant, with cinnamon and nutmeg, and mmm! Just as good.
Another plus? Only 6-8 minutes in the oven, and that's it. Perfect for the warmer weather.
Do make sure to grease the tart pan (I forgot this time). It still came out easily enough, but it wasn't the prettiest slice at first. :)
(Oh, and Dave gets credit for this picture) :D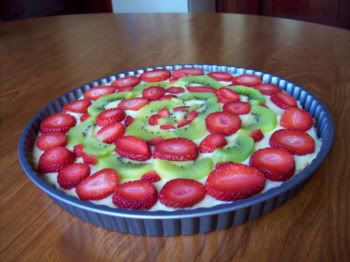 Ingredients:
2 cups graham cracker crumbs
½ cup sugar
8 Tbsp. butter, melted
8 oz. cream cheese, softened
¼ cup sugar
1½ tsp. vanilla
¼ tsp. almond extract
1 4-oz. package vanilla pudding
1 or 2 kiwis, sliced
1 cup strawberry slices
Directions:
Preheat oven to 375F. Grease a 9- or 10-inch tart pan.
Combine graham cracker crumbs, sugar, and butter; press onto bottom of prepared pan. Bake for 6-8 minutes. Let cool on wire rack.
Beat cream cheese, sugar, vanilla, and almond extract until smooth and combined. Spread over cooled crust.
Make pudding according to package instructions. Pour over cream cheese layer. Refrigerate for at least 10-15 minutes. Decorate with fruit as desired.