Dave and I both have two days left of work. Which is oddly comforting at times. LOL I knew that I'd be bringing some treats in to work (which I'll post about after this), so I asked Dave if he wanted something to bring in. Who's going to say no to that, right?
I went for simple and for using up another bag of morsels. Sure, there was a trip to Whole Foods since the brown sugar decided to skip town early, but for the most part, it could've been done while sleeping. Tastes just like a regular Toll House cookie, but with a hint of caramel from the swirled morsels.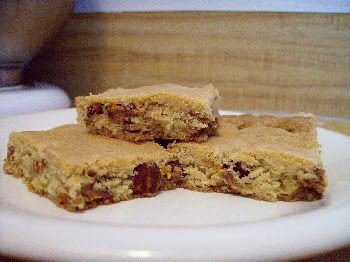 Ingredients:
2¼ cups flour
1 tsp. baking soda
1 tsp. salt
1 cup butter, softened
3/4 cup sugar
3/4 cup brown sugar
1 tsp. vanilla
2 eggs
2 cups chocolate/caramel swirled morsels
Directions:
Preheat oven to 375F. Grease a 15x10-inch jelly roll pan.
Sift together flour, baking soda, and salt; set aside.
Beat butter, sugar, brown sugar, and vanilla until creamy. Add eggs, one at a time. Gradually add flour to butter mixture. Stir in chips. Spread into prepared pan.
Bake at 375F for 20-25 minutes, or until golden brown. Let cool before cutting into bars. Makes about 4 dozen.