Hello, Humidity. It's 9:30pm and I think it's past your bedtime.
Yep, we're on the verge of some rain and storms, and in the summer here, that means serious humidity. Humidity with a capital H that makes my long, thick hair completely disagreeable, and that makes me question my sanity once having the oven on for twenty minutes. But did that stop me? Nope. I baked earlier in the day. I figured I would go with something everyone in the house would like, in case they don't like my lime/raspberry combination that I'm working with tomorrow morning. :)
These are super-simple blondies. Minimal bowls, just one measuring cup, etc. It's a good thing. Target had the swirled morsels on sale, so I grabbed a bag of those. As a side note, for those sometimes-forgetful folk: if it's over 80F outside and you're shopping, buy baking chips at the END of the errands. Otherwise you'll have a nice peanut butter/chocolate mixture that has to be put in the fridge and later eaten as a snack. Hmph. *shakes fist in anger*
On that note, my dad's already eaten three of these. Two of which were before dinner. And I like using my dad as a food-gauge, because he's the type that can eat the same kind of sandwich every day for lunch without a problem. He eats because he has to. Obviously I get the food-love from the Portuguese side of the family, not the English/Irish. ;)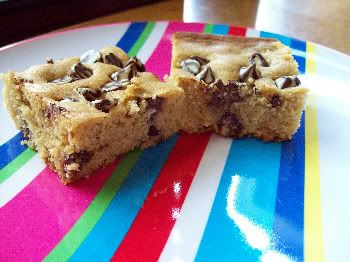 Ingredients:
2½ cups flour
1 tsp. baking powder
½ tsp. salt
1 cup butter, melted
1-3/4 cups brown sugar
1 Tbsp. vanilla
2 large eggs
1 bag of chocolate/white chocolate swirled morsels
Directions:
Preheat oven to 350F. Grease a 13x9-inch baking pan.
Stir together flour, baking powder, and salt; set aside.
Beat butter, brown sugar, and vanilla until creamy. Add eggs, beating until fully incorporated. Gradually add flour mixture. Stir in 1 cup of morsels. Spread into prepared pan and sprinkle remaining morsels on the top.
Bake at 350F for 30-40 minutes, or until a toothpick inserted near center comes out clean. Let cool completely on a wire rack before cutting.