This worked out amazingly well, both in the time-wise sense and the "needing to use things up before moving"-sense. Because we're now 4 days out from moving and only my "vital" baking things aren't packed.
Time-wise, this works because Rachel of
Coconut and Lime
, one of my fave blogs, is holding a Blogiversary Contest. It's quite simple - make a recipe she's posted at some point, blog about it, and send the link. Good deal. Timing never works out so well for me. Seriously. Timing and gravity often seem to have vendettas against me.
But, yes, this worked very well. Super easy to put together and it leaves the flavor options open. I used two kinds of jam - huckleberry jam from Ashland, OR, and Ikea's Queen's Blend Jam (it's a strawberry/blueberry mix and simply DIVINE); one on each side. The bars are very reminiscent of the jamwiches I made a while back. (Which I can't seem to find on here; did I ever post them?) They also work really well re-heated as a breakfast treat, too. :)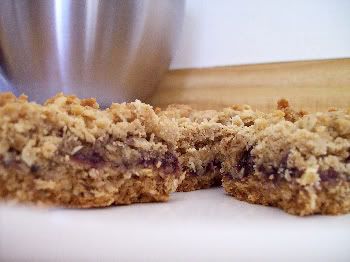 Ingredients:
2 cups oatmeal
1-3/4 cups flour
3/4 tsp. baking soda
1 tsp. cinnamon
½ tsp. cloves
½ tsp. allspice
¼ tsp. nutmeg
1 cup brown sugar
1 cup butter
3/4 cup jam
Directions:
Preheat oven to 400F. Grease an 8-inch baking dish.
Mix together the oatmeal, flour, baking soda, and spices; set aside.
Cream butter and sugar. Gradually add dry ingredients. Remove 2 cups of batter and press onto the bottom of prepared pan. Spread jam over dough. Crumble remaining pieces of dough onto of the jam.
Bake at 400F for 22-25 minutes, or until golden brown. Let cool in pan on wire rack, then cut into bars.