Yesterday did not start off well. At all.
Around 7:30a or so, as Dave was leaving for work, I closed the door and locked it, as normal. Something told me to turn, and I'm really glad that I did. Because my stack of book boxes (all eight of them) were falling right towards me. Thankfully I had turned, because otherwise I would've been hit in the head and back, instead of just my arm. Which has a lovely multi-colored odd-shaped bruise now. Not a good way to start the day. So I went back to bed for a few hours. LOL
Thankfully the day improved. :)
I wanted to make something specifically for Henelyne and that girl loves cheesecake more than anyone else I know. So that part was the easy part. I remembered her love of Ferrero Rocher, and figured I could do a chocolate hazelnut cheesecake, and it would also use up the rest of the hazelnut extract.
After debating a few recipes, I went with
this one
from the Kraft Foods website, just using hazelnut instead of vanilla. It came together very easily and I'll definitely use the recipe again. No picture of the actual cheesecake, but I did make Henelyne pose outside with the piece she was eating. :)
Oh! And the hazelnut flavor was actually recognizable this time! Yay! :)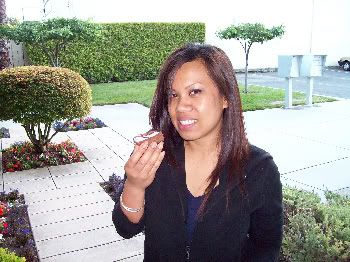 Ingredients:
1-1/3 cups chocolate cookie crumbs (I used the Newman's Own Chocolate Cookies)
¼ cup butter, melted
2 pkg. cream cheese, softened
½ cup sour cream
1 cup sugar
½ cup cocoa
2 Tbsp. flour
1½ Tbsp. hazelnut extract
2 eggs
Directions:
Preheat oven to 325F (300F if using a darker colored springform pan).
Mix together the cookie crumbs and butter until moist. Press onto the bottom of pan.
Beat cream cheese until smooth. Add sour cream, sugar, cocoa, flour, and hazelnut extract. Add eggs, one at a time, beating just until combined. Pour into prepared crust.
Bake at 325F for 50-55 minutes, or until center is nearly set. Refrigerate for at least four hours before serving.