Last year, when I had heard of Winos and Foodie's
A Taste of Yellow
in honor of LiveStrong day, I missed the deadline. I'm happy to say that I made it in the nick of time for this years. :)
Like most people, cancer has affected my life. My grandmother died of breast cancer in 1994. My childhood best friend's mom, Sue, who was my "second mom", died of breast cancer during my junior year of high school. My dad has now gone through three separate rounds of chemo for various spots of cancer. That's the hard one for me, as I'm absolutely Daddy's little girl.
Being in CA for all three rounds, I've been somewhat "removed", for lack of a better word. I've taken on the stubborn cheerleader role. Because my dad's still young, he just turned 63 this year. Because he survived a stroke when he was 42 years old. On his last doctor's visit, in March, he got the "mostly-all-clear"... there's one spot on the base of his lung that they're pretty sure is just scar tissue, but they want him back in June for another scan. No matter what, he WILL get through it, because I said so. He has entirely way too much to do still. And now I need to post the recipe or talk about something else, because I'm getting teary.
I started out last night looking for "yellow"... pineapple, mango, etc. Then I gave up. And then I found Nook & Pantry's
Strawberry Lemon Bars
. I was a bit hesitant at first, but I persevered, and am SO very glad that I did.
They taste just like strawberry lemonade. Summer time. Ocean breezes. Green grass. Everything you associate with summer. All in one bar. And I'm so happy that the crust came out decently, too. :D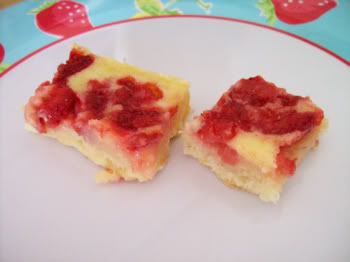 Ingredients:
Crust:
7/8 cup all-purpose flour
1/3 cup confectioners' sugar
2 Tbsp. cornstarch
Pinch of salt
6 Tbsp. unsalted butter, cold and cut into 1/2-inch cubes
Lemon Filling:
2 large eggs
2/3 cup granulated sugar
1½ Tbsp. flour
¼ cup lemon juice
2 tsp lemon zest, from 2 lemons
2 Tbsp milk
Pinch of salt
Strawberry Puree:
1 cup chopped strawberries
1–2 Tbsp. granulated sugar, depending on how sweet the berries are
Directions:
Mix the chopped strawberries with sugar and set aside to macerate for about 30 minutes.
Mix flour, confectioners' sugar, cornstarch, and salt in a bowl. Add the pieces of butter and, using a pastry blender or your hands, mix until it's a pale yellow and looks like coarse cornmeal. Line an 8x8 baking pan with a sheet of parchment. Press crust mixture into an even ¼-inch thick layer and about ½-inch up the sides. Chill in fridge for 30 minutes.
Blend the strawberries in a food processor (for a few seconds) or mash with a fork until there are no large chunks. Cook over medium heat for about 5-10 minutes until thickened. Set aside to cool.
Preheat the oven to 350F and bake crust for 20 minutes, until golden brown.
For filling: Whisk the eggs, sugar, flour and salt in a bowl until the sugar dissolves. Then whisk in the lemon juice, zest, and milk.
Reduce the oven temp to 325F.
Pour the filling into the crust. Drop spoonfuls of the strawberry mixture on the surface. Use spoon or knife to swirl the strawberries through the filling.
Bake at 325F for about 20-22 minutes, or until the filling feels firm when touched lightly. Cool to room temperature, and dust with confectioners' sugar, if desired.