These were made on Day Four of the Baking Frenzy. I would've continued, but I'm not allowed to bake when it's over 80 degrees in the apartment. *pout* (This is the girl who made two cheesecakes on the hottest day in July last year)
I'm not sure exactly what called me to this recipe. Oh, yeah. I had an apple in the fridge. Which, upon cutting, I discovered that it had been there longer than I thought. Oops. Well, the batter was all together, I couldn't just abandon ship. So I ran to the store and bought some apples. Crisis averted.
I like these. I'm always a fan of cinnamon-spicey, apple, reminds-you-of-home foods, and these totally fit all three categories. Although I think next time I'll add a bit of nutmeg and more cinnamon. I like a bit more of a kick.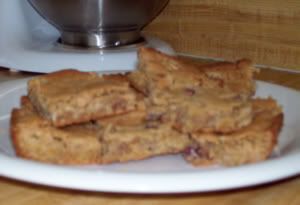 Ingredients:
1 cup all-purpose flour
1 tsp. baking powder
¼ tsp. salt
¼ tsp. cinnamon
¼ cup butter, melted
½ cup brown sugar
½ cup white sugar
1 egg
1 tsp. vanilla
½ cup chopped apple
Directions:
Preheat oven to 350F. Grease a 9x9-inch baking pan.
Sift together flour, baking powder, salt, and cinnamon; set aside.
In a large bowl, mix together melted butter, brown sugar, and white sugar, until smooth. Stir in the egg and vanilla. Gradually add the flour, mixing just until combined, then stir in the chopped apple. Spread the mixture evenly into prepared pan.
Bake at 350F for 25-30 minutes, or until lightly golden. Cool in pan, then cut into squares.