So I'm finally hopping on the bandwagon, one would guess. But, no, I have a much more interesting story than that.
Two nights ago, I was in a whole lotta pain. The type that even Vicodin wasn't touching. Needless to say, I didn't get much sleep. But at one point, I dreamed. I dreamed of making these cookies.
Now, since I first heard/read of them, when
Baking: From My Home To Yours
came out, I've wanted to make these cookies. But I was secretly intimidated by them. I don't know why, maybe because everyone was making them, and I was afraid of being a total flop.
Anyways, I remembered this dream yesterday afternoon, and instantly went to work. It was a very un-me sort of thing to do. Not the spur-of-the-moment baking, that's nothing new, but the facing the fears head-on thing. I'm more of a planner.
So I started. I had specifically bought the sea salt a while ago for this, so I was set. Between the splitting of the dough and the rolling it into a log, I thought I'd never get the dough out from under my fingernails. LOL
However, my elementary-school math skills are obviously rusty, because I thought a centimeter was a bit smaller than what it actually is. Oops. So my cookies, while yummy, are a bit thin. Dave calls them wafers. But that does explain why I had 49 cookies, not the 36 as the book says. :)
I brought half the batch with me to work today, and I had people coming back for seconds and thirds. Darlene, who requested the recipe, said, "These give me such an endorphin-rush!" Which I thought was cute.
(I'm typing up the recipe now, using the book instead of what I copied from another food blog, and I'm noticing some differences... the butter amount, for one. And the thickness of the cookies. No wonder mine are so thin! I'm definitely going to have to make these again! They'll be prettier then!)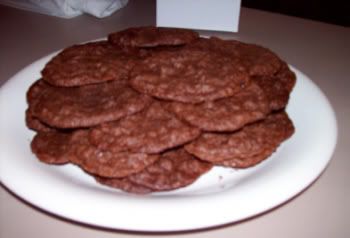 Ingredients:
1¼ cups all-purpose flour
1/3 cup unsweetened cocoa powder
½ tsp. baking soda
1 stick plus 3 Tbsp. unsalted butter
2/3 cup packed light brown sugar
¼ cup sugar
½ tsp. fleur de sel or ¼ tsp. fine sea salt
1 tsp. pure vanilla extract
5 ounces bittersweet chocolate, chopped into chips OR 3/4 cup mini chocolate chips
Directions:
Sift the flour, cocoa, and baking soda together.
In a large bowl, beat the butter on medium speed until soft and creamy. Add both sugars, the salt, and vanilla, and beat for 2 minutes more. Pour in the dry ingredients, mixing just until the flour disappears into the dough. (Work the dough as little as possible; don't worry if it's a bit crumbly) Gently mix in the chocolate pieces, mixing only to incorporate.
Turn the dough out onto a work surface, gather it together and divide it in half. Working with one half at a time, shape the dough into logs that are 1½ inches in diameter. Wrap the logs in plastic wrap and refrigerate them for at least 2-3 hours (depends on fridge temperature, of course.)
Preheat oven to 325F. Line two baking sheets with parchment paper.
Using a sharp, thin knife, slice the logs into rounds that are ½-inch thick. (The rounds are likely to crack, just squeeze the bits back onto each cookie.) Arrange the rounds on the baking sheets, leaving about 1 inch between them.
Bake at 325F for 12 minutes. Transfer the baking sheet to a cooling rack and let the cookies rest until they are only just warm.