Worry not! I haven't been kidnapped by muffin-obsessed aliens! :D Dave and I went to Reno over the weekend for a bowling tournament that he was in, thus no baking this past Friday.
But I was in the mood last night for something for breakfast, and wound up finding this recipe on
Allrecipes
. I altered it slightly (cutting down on the oil, and upping the applesauce. I put what I did in the recipe posted). If I make it again, I'll definitely add more spices to it. It's moist and yummy as it is, but I'd like just a little bit more kick. After all, mornings can be rough, and sometimes we all need a kick to get started. ;)
Oh, and at first, I kinda questioned the whole vanilla pudding powder in there, but once mixed - even when still just dry ingredients - it smells so good. It adds almost a smoothness to the flavor, which was a very pleasant surprise.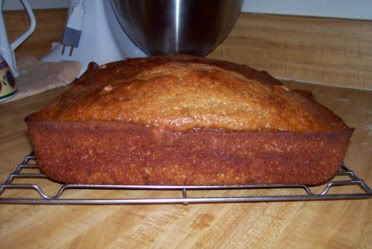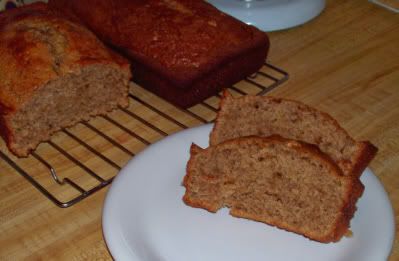 Ingredients:
3 cups flour
2 cups sugar
1 5.1-oz. package of instant vanilla pudding
½ tsp. baking soda
1½ tsp. baking powder
½ tsp. salt
2 tsp. cinnamon
1½ cups milk
¼ cup vegetable oil
3/4 cup applesauce
2 eggs, beaten
1 tsp. vanilla
Directions
Preheat oven to 325F. Grease two 5x9-inch loaf pans with nonstick spray.
In a mixing bowl, combine flour, sugar, pudding mix, baking soda, baking powder, salt, and cinnamon. In a separate bowl, stir together milk, vegetable oil, applesauce, eggs, and vanilla. Pour milk mixture into flour mixture, mixing until well blended. Divide batter (relatively) evenly between the two loaf pans.
Bake at 325F for 60 minutes, or until toothpick inserted near center comes out clean. Let cool in pans on wire rack.