Baking fiend these days, aren't I? LOL Actually, no, I keep dreaming of baked goods and feel compelled to make them, that's what it really is.
And it works out that Myriam of
Browniebabe of the Month
said we could enter two recipes. :D
So, the inspiration for this one came from a dream this morning. I used my normal blondie recipe, but it took some time to figure out how much ginger to use. Thank the Baking Gods that I toned it down from the original thought of a tablespoon! There are two teaspoons in my batch, but the next time around (and, trust me, there will be), I'll use just 1½. I like ginger, but not THAT much!
They're very soft and moist, a very pretty golden color. I have a feeling most of these will go to work with me on Sunday.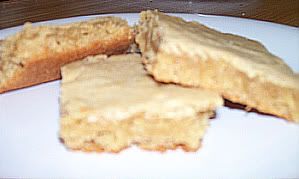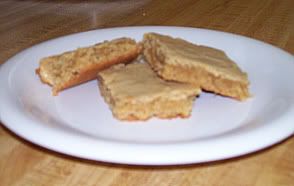 Ingredients:
1 cup plus 2 Tbsp. flour
1 tsp. baking powder
¼ tsp. salt
1½ tsp. ginger
3/4 cup brown sugar
1/3 cup butter, softened
½ tsp. vanilla
1 large egg
Directions:
Preheat oven to 350F. Grease a 9-inch square baking pan.
Combine flour, baking powder, salt, and ginger; set aside.
Beat brown sugar, butter, and vanilla until creamy. Beat in egg. Gradually add flour mixture. Spread into prepared pan.
Bake at 350F for 20-25 minutes. Cool completely in pan on wire rack. Cut into bars. Makes about 16 bars.