While on the phone with my mom yesterday, it came to me that I've never made anything with lemon. (Well, short of what is now referred to as the 'lemon burgers' that Dave and I made two summers ago... but that is so the fault of the recipe! Long story) So I started searching for lemon bars, preferably one with some raspberry or strawberry. Unfortunately, after copying down the recipe, I didn't save the website. Oops.
I had some concerns, though... A) there wasn't much lemon 'filling', and B) it didn't look pretty when I pulled it out of the oven! So I sprinkled some powdered sugar, and let it cool. For the night. Since it was late. This morning I tried a quick corner, and thought, 'Eh. Not another recipe I don't like!', and went off to work. Tried it again this afternoon, after scraping off some of the sugar, and it was much better. Not sure if I'd make this exact one again, but maybe.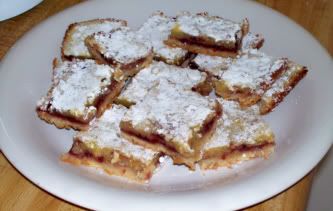 Ingredients:Crust:
1 cup flour
¼ cup sugar
Pinch of salt
6 Tbsp. butter
Filling:
2 large eggs
3/4 cup sugar
2 Tbsp. flour
¼ tsp. lemon zest
3 Tbsp. lemon juice
¼ tsp. baking powder
1/3-1/4 cup raspberry preserves
Confectioners' sugar
Directions:
Preheat oven to 350F. Grease an 8x8-inch baking pan.
Stir together flour, sugar, and salt, then cut butter in until crumbly. Press crust into pan. Bake for about 15 minutes; set aside.
Mix together the eggs, sugar, flour, lemon zest, lemon juice, and baking powder. Spread raspberry preserves over semi-cooled crust. Pour lemon batter over preserves.
Bake for 25 minutes, or until set. Once cool, dust with confectioners' sugar, if desired, and cut into bars.