When I woke up yesterday morning, I had no idea what I was going to be baking. I left it up to fate. Well, not fate, but more of what was on sale at Whole Foods. :) But after all the chocolate of last week, I knew it would involve fruit. Blueberries were two pints for $5, and that was the best price for fruit that I like. (The ten-pound bag of oranges we bought today is certainly not for me lol)
This is another request recipe. Dave, upon hearing that I bought blueberries, went, "Ooh! Blueberry muffins!", in a way that made me picture him as a kid. ;)
I found this one over at
AllRecipes
. With over 1800 reviews, I figured it'd do well. The only thing I changed was the quantity, upping it to 12.
I think they're a bit on the greasy side. If I make them again, I'd definitely substitute applesauce for the oil, and see what difference that makes. Dave's pleased. He feels that a good blueberry muffin should be a bit greasy. *raises eyebrow* The streusel topping is nice and crisp, and I added some ginger and nutmeg for the fun of it. :) But yes, 'twas yummy and is a nice change for breakfast.
As a side note, this is my 100th post! All together now: "Awww!" :D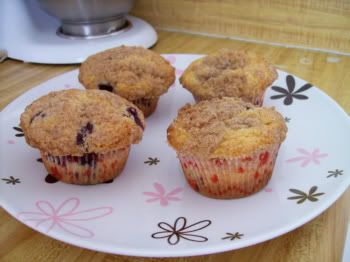 Ingredients:
2¼ cups all-purpose flour
1 cup and 2 Tbsp. white sugar
3/4 tsp. salt
1 Tbsp. baking powder
½ cup vegetable oil
2 egg
½ cup milk
1½ cups fresh blueberries
3/4 cup white sugar
½ cup all-purpose flour
¼ cup and 2 Tbsp. butter, cubed
2¼ tsp. cinnamon
Directions:
Preheat oven to 400F. Line 12 muffin cups with paper liners.
Combine flour, sugar, salt, and baking powder in a large bowl. Pour vegetable oil into a 1-cup measuring glass; add eggs and milk to fill glass. Pour into flour mixture and mix. Gently fold in blueberries. Fill muffin cups to the top.
For streusel, mix together sugar, flour, butter, and cinnamon. Mix with fork and then sprinkle over muffins.
Bake at 400F for 20-25 minutes, or until a toothpick inserted near center comes out clean. Let cool on wire rack.