On Thursday, the 6th, it's Johanna's birthday. She's my best friend, my partner in crime, completely the Rachel to my Monica. She returns stuff, and I'm very... organized. :)
So when she asked for a cake version of the cupcakes I made last week (was it last week?), of course I agreed. And then went searching for a cake recipe version, since I lack the confidence still in judging times versus pan size. Anyways, I found a good recipe and halved it, since there wasn't any way that I could get a layer cake into work without injury to myself or the cake.
I'm very happy to report that the soon-to-be-birthday girl enjoyed her cake and did share it with others. Tasted just like the cupcakes, including the desire for a glass of milk afterwards. :) And for the frosting, I just used the remaining ganache from the cupcakes of last week. Went simple for decorating, since I know Jo's picky about sprinkles, so I just used all the jimmies I had left for the outer rim, and sprinkled some colored sugar over the center. All were pleased. :D
Happy Birthday, Jo! <3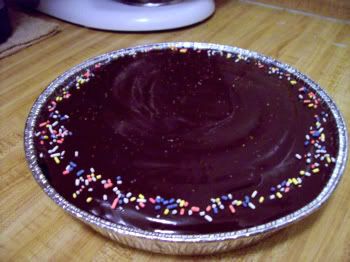 Ingredients:
3/4 cup all-purpose flour
1 tsp. baking powder
¼ tsp. plus 1/8 tsp. baking soda
¼ tsp. plus 1/8 tsp. salt
5½ Tbsp. unsalted butter, softened
3/4 cup granulated sugar
1/3 cup Dutch-processed cocoa powder
1 large egg
½ tsp. vanilla
2/3 cup warm water
Directions:
Preheat oven to 325F. Line the bottom of an 8 inch cake pan with parchment paper, grease and dust the sides with flour.
Sift together the flour, baking powder, baking soda, and salt in a medium bowl; set aside.
Beat butter and sugar at medium speed until mixture becomes pale and well blended. Add the cocoa powder and beat at medium speed for 1 minute. Beat in egg, followed by vanilla.
Add the flour mixture and warm water, alternately, to the butter mixture; starting and ending with the flour. Pour batter into prepared pans.
Bake at 325F for 25-30 minutes, or until a toothpick inserted near center comes out clean. Cool the cake in the pan for 20 minutes. Unmold cake and let cool completely before frosting.