I'm posting this now in hopes of making the deadline. Arfi, of
HomeMadeS
, who is hosting the
Cupcake Spectacular
responded to my email with a positive answer: Yes, I could use a cupcake that I made about two weeks, so long as I posted it in a new post. Good deal!
Seeing as I don't currently know what time it is in New Zealand, I'm posting this hurriedly, just in case. :D
Devil's Food Cupcakes!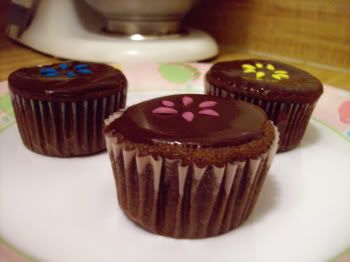 Ingredients:
½ cup boiling water
6 Tbsp. unsweetened cocoa powder
¼ cup milk
½ tsp. vanilla extract
1 cup flour
½ + 1/8 tsp. baking soda
¼ tsp. salt
½ cup butter, softened
10 Tbsp. brown sugar
6 Tbsp. sugar
2 eggs
Directions:
In a bowl, whisk boiling water into cocoa until smooth. Add in milk and vanilla; set aside.
Preheat oven to 350F. Line 12 muffin cups with paper liners.
In a small bowl, sift flour, baking soda, and salt; set aside.
In a mixing bowl, beat together butter and sugars until light and fluffy. Add eggs, one at a time, beating well after each addition. Add flour mixture in batches, alternating with cocoa mixture; beginning and ending with the flour. Fill liners about halfway full.
Bake at 350F for 18-20 minutes. Cool on wire rack.
Chocolate Ganache:
½ cup heavy cream
8 oz. semi-sweet chocolate chunks
2 Tbsp. light corn syrup
Heat the cream until boiling, then pour over chocolate, stirring to melt, adding the corn syrup. Dip each cupcake into ganache upside down to get a good coating on it.