It was a few months ago when I first tried almond butter. It was at Whole Foods, one of their free samples, and I was just blown away. Unfortunately, it was like $12 for a jar, and, well, I work in retail. That explains everything.
Two weeks ago, one lazy Saturday morning, Dave and I, in our travels, went over to
Piazza's
in Palo Alto, where I discovered 8 ounces of almond butter for $3.99. Perfect.
Instead of hunting down a brand new recipe to try, I went with the recipe from the pb blondies from a few weeks ago. (Okay, so I did search, but with no luck) The almond butter had some crunch to it, where I would rather prefer smooth. But the finished product came out very good. I found some toffee bits floating around and added some of those in there, too. The bars would be good with or without them, it's up to you. :)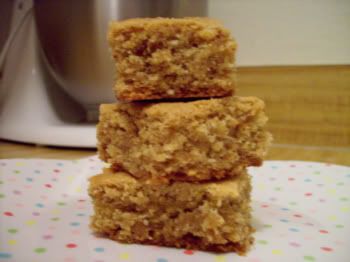 Ingredients:
1 cup all-purpose flour
½ tsp. baking powder
¼ tsp. baking soda
¼ tsp. salt
½ cup unsalted butter, softened
½ cup almond butter
3/4 cup firmly packed brown sugar
¼ cup granulated sugar
1 large egg, at room temperature
1 tsp. vanilla extract
1 tsp. almond extract
¼-½ cup toffee bits (optional)
Directions:
Preheat oven to 325F. Grease an 8-inch baking pan.
Combine flour, baking powder, baking soda, and salt; set aside.
Cream butter, almond butter, and sugars until smooth. Add egg and vanilla, mixing well. Stir in toffee bits, if using. Spread into pan.
Bake at 325F for 30-35 minutes, or until toothpick inserted near center comes out mostly clean. Let cool before cutting into bars.