This month's
Master Baker
ingredient was a bit more diverse: Easter candy.
For me, my ultimate Easter candy are the Mini Eggs. Simple, but delightful, I stretch that bag out for as long as I possibly can. The Cadbury Cream Egg is number two. As a kid, I wasn't a big fan of it. I think the goo was a bit disturbing for me. But something changed as I got older and soon that goo was a happy-goo. And why does that sentence sound so very wrong? LOL
Anyways! When I found out the ingredient, I knew I wanted to work with either the Cream Egg or Mini-Eggs. Anything else would just be... it just wouldn't be. I proposed both to Dave and my beloved Guinea Pigs this idea: What if I could make a cupcake with an egg in the center? Which led to the main question: How?
I baked a batch of yellow cupcakes last Saturday and put four eggs into the uncooked batter. Wasn't sure how the egg and the goo would respond to the oven. Thankfully, the oven didn't explode. ;) But, upon the undressing of the cupcake, the bottom came off with the liner, revealing a still somewhat egg-shaped piece of chocolate. But it was empty. The goo escaped, giving the bottom of the cupcake an odd orange tint. Back to the drawing board.
Long story short, the image of a chocolate cupcake with the egg inside came to mind. Lacking the eggs for the Devil's Food Cupcakes, I went with
Vegan Cupcakes Take Over the World
's chocolate cupcakes, then hollowed out a bit of the center to place the egg in. I went with the mascarpone frosting because, oh, it's like satin on my tongue. :)
So, onto the next important part: the pictures. :)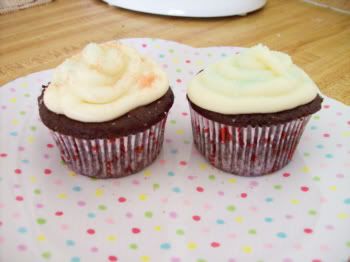 Ingredients:
1 cup milk
1 tsp. apple cider vinegar
3/4 cup sugar
1/3 cup applesauce
1½ tsp. vanilla
1 cup flour
1/3 cup cocoa
3/4 tsp. baking soda
½ tsp. baking powder
¼ tsp. salt
Directions:
Preheat oven to 350F. Line 12 muffin tins with paper liners.
Whisk together the milk and vinegar, and set aside to let curdle. Add the sugar, applesauce, and vanilla to milk mixture and beat until frothy. In a separate bowl, mix dry ingredients. Add in two batches to wet ingredients and beat well-mixed. Pour into liners, 3/4s full.
Bake at 350F for 18-20 minutes.
Frosting:
8 oz. mascarpone cheese, at room temperature
¼ cup butter, at room temperature
2-2½ cups sifted powdered sugar
½ tsp. vanilla extract
In an electric mixer, beat butter and cream cheese at medium speed until creamy. Add 2 cups of the powdered sugar and vanilla. Beat until combined. Add more sugar, if needed, for desired consistancy.
Assembly:
Using a knife (or spoon), remove a small piece of the center of the cupcake. Insert Cadbury Egg. Cover with frosting.