Last year's Cooking to Combat Cancer was my very first blog event, and I'm really glad that I'm able to take part in this one as well. I worked with berries last year... after all, they are my favorite fruit and they're just so loaded with antioxidants and vitamins and good stuff. Plus, they're versatile.
A few weeks ago, I discovered the joy that is Pomegranate Balsamic Vinegar. It's made and sold by a local farmers market,
Sigona's
, and it's just delicious. They have a whole room just for sampling vinegars, and when this one hit my tongue, it was as if the flavors were dancing. Sweet and tart at the same time, I splurged and bought a bottle. And then had no idea what to do with it.
Hey, how 'bout that? The Mayo Clinic website has a recipe for Berries in Balsamic! I did mine very differently, very simply. Even my dad could put this one together, and he's the connoisseur of cheese sandwiches. ;)
As an added 'healthiness', I used vanilla soy ice cream. Because I know soy is good for you. :)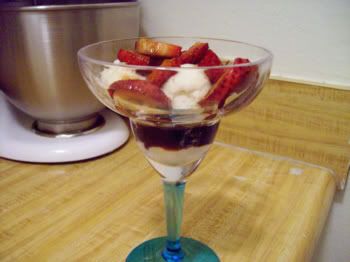 Ingredients:
1 cup strawberries, chopped
¼ cup balsamic vinegar (whichever flavor you prefer)
Ice cream or frozen yogurt of choice (again, your flavor)
Directions:
Combine strawberries and vinegar in a bowl. Let marinate in fridge for a few hours. Pour over ice cream/frozen yogurt. And enjoy. Makes two servings.