I feel like ever since I had the key lime pie a few weeks ago, a monster has been let loose. One that squees over the very thought of something being lime flavored. A monster that dances happily while eating lime icing out of the mixing bowl. And the monster also bought some lime yogurt to try this week, too. Even now, there's a bottle of raspberry lime rickey by
my
the monster's side. ;)
It's not surprising. Even as a kid, if I liked something, I'd want to eat it all the time. You wouldn't believe how many times I ate Chef Boyardee's mini ravioli or the tortellini. And then I'd get tired of it and never eat it again. It even happened to my chai tea for a while. I didn't drink it for nearly two years, then got back into it, and now get it everytime I go to Starbucks or a restaurant that serves it. Is there an Obsessers Anonymous out there?
Even after last week's disatrous lime bars, when I saw these babies over at
Coconut and Lime
, I knew I had to make them. After tasting the batter, I was smitten. After the icing? Oh, it was full on love.
The cupcake alone doesn't have the strong lime taste, but when combined with the icing, it's perfect. Dave wants tequila in it. I may be making margarita cupcakes tomorrow. :)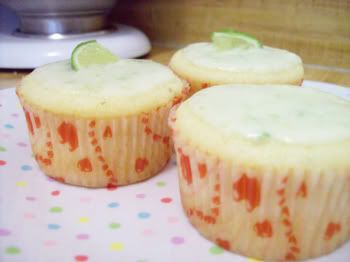 Ingredients:
1½ cups flour
½ tsp. baking powder
¼ tsp. baking soda
¼ tsp. salt
3/4 cup butter, softened
1 cup sugar
Zest of one lime
2 eggs
2 tsp. lime juice
3/4 cup buttermilk
Directions:
Preheat oven to 350F. Line 12 muffin cups with paper liners.
Whisk together flour, baking powder, baking soda, and salt; set aside.
Cream butter, sugar, and lime zest until fluffy. Add eggs, one at a time. Stir in juice. Alternately add flour mixture and buttermilk, starting and ending with the flour. Fill muffin liners two-thirds full.
Bake at 350F for 20 minutes, or until toothpick inserted near center comes out clean. Let cool completely on wire rack.
Lime Icing:
1 cup confectioners' sugar
3 Tbsp. butter
Zest of one lime
2 Tbsp. buttermilk
1 Tbsp. lime juice
Combine sugar, butter, and zest. Add buttermilk and lime juice. Mix until well combined. Spread over cooled cupcake.