Well, afer the success of the Lime cupcakes on Friday, I thought I'd get myself some tequila and try the Margarita Cupcakes from
Vegan Cupcakes Take Over the World
. Maybe I should preface this by saying that while I love a good margarita, I need flavoring to it. I don't like stuff that's too alcohol-y. Which is good on one hand, but bad on the other, when it sneaks up on you. :)
I love the cupcake part. It's more lime than Friday's, and there are no complaints about that. The icing? Even though I used just under a tablespoon of tequila, it tastes way too strong. Dave disagrees, but whatever. He did the whole college drinking thing when he was 19. LOL But put together, I can deal with the icing taste. It firms up quite nicely, too. Oh, and despite where the recipe's from, they aren't vegan. lol
Maybe somehow I could do a strawberry margarita cupcake. :D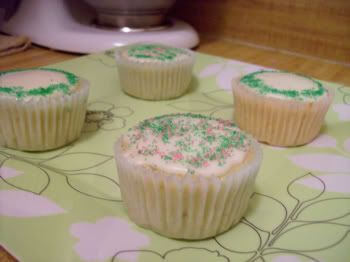 Ingredients:
1-1/3 cups flour
¼ tsp. baking soda
½ tsp. baking powder
½ tsp. salt
¼ cup lime juice
1½ tsp. lime zest
1 cup milk
¼ cup oil
2 Tbsp. tequila
½ tsp. vanilla
3/4 cup sugar
Directions:
Preheat oven to 350F. Line 12 muffin cups with paper liners.
Sift together flour, baking soda, baking powder, and salt; set aside.
In a large bowl, beat lime juice, zest, milk, oil, tequila, vanilla, and sugar, until well-combined. Add flour mixture, beating until smooth. Fill cupcake liners three-quarters full.
Bake at 350F for 20-25 minutes, or until a toothpick inserted near the center comes out clean. Let cool completely on wire rack before frosting.
Icing:
¼ cup butter, softened
1 Tbsp. milk
3 Tbsp. lime juice
1 Tbsp. tequila
2 cups confectioners' sugar, sifted
Mix butter, milk, lime juice, and tequila. Add sugar, one cup at a time, until smooth. If icing is too thin, add 1 Tbsp of sugar at a time until desired consistancy is reached.