For this
MB event
, the main ingredient was vanilla. Which leaves a HUGE amount of options. After some talk, I settled on the idea of a vanilla bean cheesecake with some kind of berry swirl.
But of course that changed.
I knew I wanted something cheesecake-y. And I wanted to finally use the vanilla beans that Dave bought for me. Then the berry flavor... I didn't want to use jam or jelly. After some searching, I decided to use the same strawberry puree that I made last week for the Lemon Berry Bars. (I'm all about the swirling lately, aren't I?) Then... "Do I really want to make a whole cheesecake?", to which I started playing around, mentally, with different shapes. Heart-shaped cookie cutter? Nah, didn't have one big enough. Eventually, I combined a few different recipes, and came up with this.
It was my first time using vanilla beans, and I was nervous. But I think I did well. Despite how in some bites, the berry flavor overtakes everything, the vanilla bean flavor is both subtle and smooth. If that makes sense. :) My only complaint is that the strawberry swirl isn't as bold of a color as I was hoping for.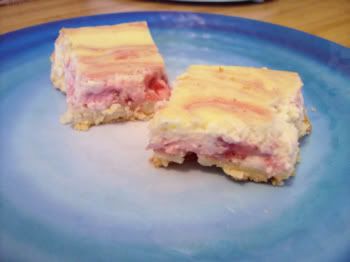 Ingredients:
Strawberry Puree
2 cups strawberries, cut into small pieces
1-2 Tbsp. sugar
Crust:
1/3 cup sugar
½ cup butter, softened
1½ cups all purpose flour
¼ tsp. salt
Filling
½ cup sugar
½ cup half & half
2 pkg. cream cheese, room temperature
3 large eggs
½ vanilla bean (or 2 tsp. vanilla)
1 Tbsp. all purpose flour
Directions:
For strawberry puree: Blend the strawberries in a food processor (for a few seconds) or mash with a fork until there are no large chunks. Cook over medium heat for about 5-10 minutes until thickened. Set aside to cool.
Preheat oven to 350F. Grease a 13x9-inch pan.
For crust: Beat sugar and butter until smooth. Gradually add flour, followed by the salt, until mixture is crumbly in texture. Press onto bottom of prepared pan. Bake for 15 minutes.
For filling: Beat sugar, cream cheese, and half & half until smooth. Add eggs, one at a time. Scrape in vanilla (or add extract), then add flour. Pour onto hot crust. Drop spoonfuls of strawberry puree over filling, then swirl through with a knife or spatula.
Bake at 350F for 20-23 minutes, or until filling is set. Let cool completely before cutting and serving.