Tomorrow night into Monday morning, Amelia's working overnight, and she hinted on Thursday about some sort of baked good with caffeine in it. So hopefully she won't read this until after she gets home on Monday. ;)
So I went searching for coffee-infused brownies. Easy enough, right? Surprisingly, no. 90% of the caffeine recipes come up with either espresso, mocha, or cappuccino. I guess coffee has become passé. What's coffee milk called nowadays then?
(If this post is a bit garbled, NCIS has hooked me in and keeps distracting me! *shakes fist at the tv*)
I finally found this recipe from
BakeSpace
. It came together VERY easily, and it tastes like a dream. The coffee flavor isn't overpowering (thankfully, as far as this little girl is concerned), but it's there enough to know there's a bit of caffeine in there. The brownie itself is more cakey than fudgey, and also has a feeling of lightness. Good deal. Half the batch goes to work with me, and I'm giving the other half to Dave to bring into his work. :)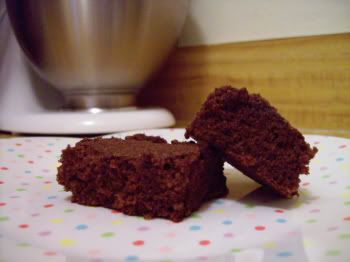 Ingredients:
2/3 cup flour
2/3 cup unsweetened cocoa powder
½ tsp. baking powder
¼ tsp. salt
1½ cups sugar
1 cup melted butter
2 tsp. instant coffee crystals, disolved in 1/4 c. water
3 eggs
Directions:
Preheat oven to 350F. Grease a 13x9-inch baking pan.
Mix together flour, cocoa powder, baking powder, and salt in a bowl; set aside.
In a large mixing bowl, mix sugar, butter, and coffee until well combined. Add eggs. Gradually stir flour mixture into batter. Pour into prepared pan.
Bake at 350F for 20 minutes, or until a toothpick inserted near center comes out clean. Let cool before cutting. Makes 24-32, depending on the size.